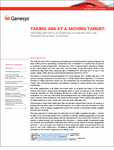 The swiftness with which smartphones and tablets have transformed the business landscape has been nothing short of astonishing. But while organizations of all stripes have been quick to recognize the impact of the mobile channel, they haven't always acted strategically when it comes to putting it to use.

Most enterprise mobile apps offer excellent self-service and transactional capabilities. Think about it: What good is a self-service mobile app if a user has no recourse but to abort the process and reach out to the contact center for help when a problem is encountered — especially when the contact center doesn't have visibility into the mobile session and the user is taken back to the beginning of the business process?
With a mobile strategy that's tightly integrated with your customer service efforts and contact center infrastructure, you can differentiate and grow your business while continually improving the customer experience.
Download this white paper now and learn more.